As a curator, Theresa Ruth Howard works in diverse mediums.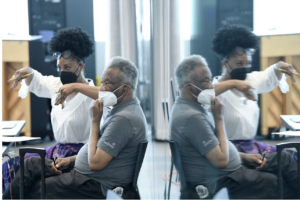 MOBBALLET:
MoBBallet.org is our digital archive that houses an animated timeline, which chronicles the contributions of Blacks in ballet. Additionally, it includes our Roll Call, a list of 677 professional Black ballet dancers, both past and present, with biographical artist pages. Furthermore, it showcases digital installations such as "And Still They Rose: The Legacy of Black Philadelphians in Ballet" and "The Constellation Project," developed in partnership with Williams College. These installations highlight the intersection and influence of Black artists, institutions, and organizations that have shaped the history of Black artists in ballet. Many institutions, including Barnard College, Duke University, Old Dominion University, Pratt Institute, Texas Christian University, and Swarthmore College, utilize the educational tools and resources in their classrooms. Additionally, a Digital Learning Hub provides free resources as well as virtual training courses.
DIGITAL INSTALLATIONS:

Along with creating digital installations for MoBBallet, she has been commissioned to curate historical installations for the Dutch National Ballet in celebration of Black Achievement Month.
Dancing Diversity: Celebrating the History of the Black Ballet Artists of Dutch National Ballet photo exhibition was originally conceived in celebration the Black Achievement. The Dancing Diversity live event was held October 20 2019 presented by Dutch National Ballet, and co-present by Artistic Director Ted Brandsen and Black Achievement Month John Leerdam.
Dancing Diversity: Celebrating the History of the Black Ballet Artists of Dutch National Ballet
Curator: Theresa Ruth Howard
Dutch National Ballet Archivist Henrik Lillin
Video Editor: Mathieu Gremillet
Music: Horses By Pictures of the Floating World
Program Curation:
REFRAMING THE NARRATIVE: THE KENNEDY CENTER

In 2022, Howard was tapped to curate a program for the Kennedy Center. "Reframing the Narrative" was a week of dynamic programs curated by Theresa Ruth Howard, founder of Memoirs of Blacks in Ballet, and Denise Saunders Thompson, president and CEO of The International Association of Blacks in Dance. The performances brought together Dance Theatre of Harlem, Ballethnic Dance Company, and Collage Dance Collective.
As a guest curator, Theresa Ruth Howard facilitated a two-week creative process through the Kennedy Center Social Impact's Office Hours Residency Program with eleven international Black-identifying ballet dancers and renowned choreographer Donald Byrd. Using the music of Kennedy Center Composer-in-Residence Carlos Simon, they birthed "From Other Suns," a stunning piece that premiered during the "Reframing the Narrative" program at the Kennedy Center Opera House.
SYMPOSIUMS, PANELS AND MORE: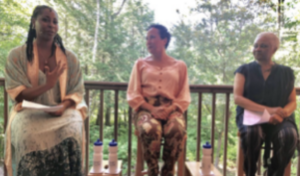 The curation and moderation of panels and symposiums have become a specialty of From Here to Diversity. Our expertise lies in the artful selection of participants and programming, combined with thoughtful attention to user experience, which sets our events apart. Our curatorial approach focuses on pushing boundaries, expanding topics, and fearlessly interrogating hard truths, resulting in exciting and innovative content that creates memorable experiences for all attendees.